Customs regulations for household goods shipments - Mexico
Up to date
Summary
To import household goods and personal effects free of duty and taxes, importer must meet the requirements listed below for each migratory classification, all goods must be used for at least six months, consist of the personal effects and furniture exclusive for the day to day use of a single family, clothing, books, bookcases, art and scientific work that are not complete collections for trade shows, scientific instruments and tools of workers, artisans, etc. , when they are necessary for the conduction of their trade or profession and should not be all the equipment needed to set laboratories, shops or factories.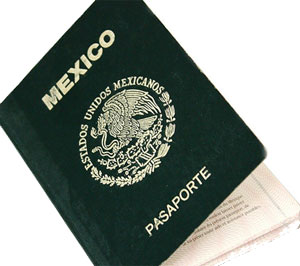 Not considered household goods are:
New items, those with less than six months of use, articles purchased for less than six months whether used or not, used items packed in original cartons, live plants or animals, beverages and foods of any type, firearms, ammunition, explosives, drugs, pornographic material, "pirate goods", cars, motorcycles, and boats, trophies of animals or fish. lf in doubt, please contact us for specific information.
---
Documents Required for "Declaración Certificada de Menaje de Casa" (Needed by all returning Mexican nationals, residents and non-resident visa holders).
Importer has to visit Mexican consulate or embassy nearest to their place of residence and provide:
Full name
Address in foreign country
Place of residence in Mexico
List with description and quantity of all items being shipped, with brand model and serial number of all electronic items. Most consulates require this list to be in Spanish and others accept it in English, also some consulates require all electronic items to be listed separately and some others intermingled with rest of items, so it is good for you to check with them beforehand.
Time of residence in foreign country has to be no less than 6 consecutive months. It is also important to check ahead with consulate what documents they require
Consulates as a rule issue from 3 to 4 original documents of "Declaracion Certificada de Menaje de Casa". Two of them are required for the customs clearance process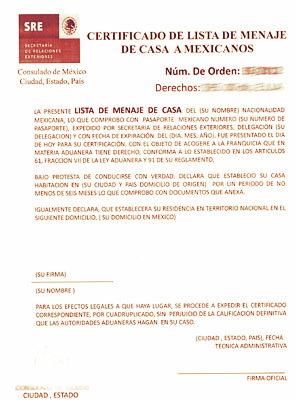 ---
Returning Mexican Citizens
Importer must show proof to Mexican embassy or consulate nearest to origin city of residence, of having

resided outside of Mexico for at least 6 consecutive months, as requisite for issuance of household goods "Declaracion Certificada de Menaje de Casa"

Copy of importer's Passport
CURP: Clave Única Registro de Población
Declaración Certificada de Menaje de Casa stamped by nearest Mexican Consulate (2 needed)
Signed affidavit declaring shipment value and that no prohibited items are being imported. (Ask us for form letter)
Power of attorney to customs broker with authorization for them to customs clear goods on your behalf (Ask us for form letter)
Destination address in Mexico.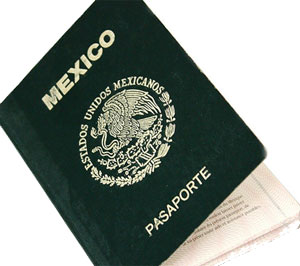 ---
FM-3 Visa Holders
Copy of FM-3 visa
Declaración Certificada de Menaje de Casa, this document may or may not be required according to entry port in Mexico (Check with us first)
Copy of importer's passport
US citizens are required to provide to US and Mexican customs their Employee Identification Number (EIN) this number can be obtained by the importer directly at http://www.irs.gov/ or by calling the IRS at 800-8294933.
Other nationalities are required to provide tax ID number from their respective country to Mexican customs.
Original and two copies of typewritten inventory in Spanish (Moreno provides the translation) with brand model and serial number of major electrical appliances.
Signed affidavit declaring value of shipment and that no prohibited items are brought. Moreno provides this form letter
Affidavit on company's letterhead signed by company officer with power of attorney, stating that all imported items will be exported from Mexico once visa expires and that your company is responsible for that. (Moreno provides text for this form letter)
Power of attorney letter authorizing customs broker to clear shipment on your behalf
Importer's address in Mexico as well as address in country of origin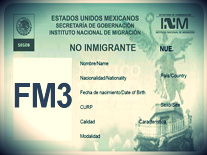 ---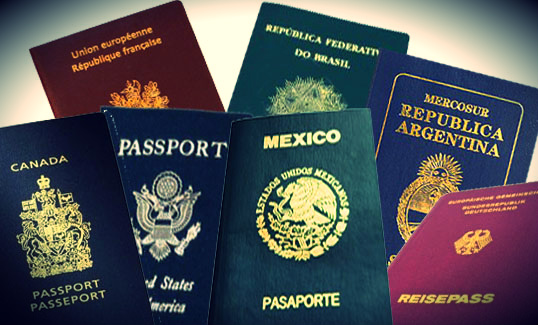 ---
FM-2 Visa Holders
Regulations are the same as for FM3 visa holders and not having previously imported household goods and personal effects shipments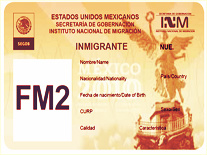 ---
Foreign Diplomats
Copy of importer´s Diplomatic Passport
Diplomatic Franchise obtained from Mexican Foreign Ministry "SRE" by importer's embassy in Mexico
Inventory list in Spanish
Signed affidavit declaring value of shipment and that no prohibited items are imported. Ask us for form letter.
Power of attorney letter authorizing customs broker to clear shipment on your behalf. Ask us for form letter
Importer's address in Mexico and former address in country of origin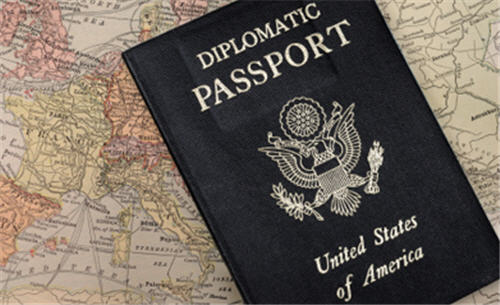 ---
Mexican Citizens Returning with Diplomatic Status
Photocopy of diplomatic passport
Special franchise obtained from customs by Mexican Foreign Ministry
Clave Unica Registro de Poblacion "CURP" number
Inventory in Spanish
Signed affidavit declaring value of shipment and that no prohibited items are imported. Ask us for form letter
Power of attorney letter authorizing customs broker to clear shipment on your behalf. Ask us for form letter
Importer's address in Mexico as well as address in country of origin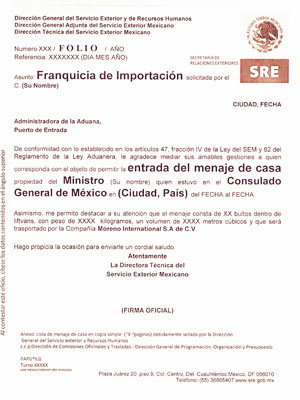 ---
Automobiles and other Motor Vehicles
May be imported on a temporary basis by FM-3 visa holders, but not so by returning mexican citizens accompanying their household goods shipment. Importer must personally drive car through mexican customs with required documents to obtain a temporary permit at the time of crossing. Only one car is authorized for each FM3 visa holder. Vehicle authorization is normally issued for the duration of visa. FM-2 visa holders with several restrictions could also import them (Check with us first) Mexican citizens may only bring automobiles into Mexico as tourists, driving it via Laredo, Texas, showing proof of residence outside of Mexico and obtaining the appropriate permit issued for not over six months. Never include an automobile or other motor vehicle belonging to a returning mexican citizen in same shipping container with household goods, because it will be confiscated (if in doubt, please contact us before shipping). Following documents are needed: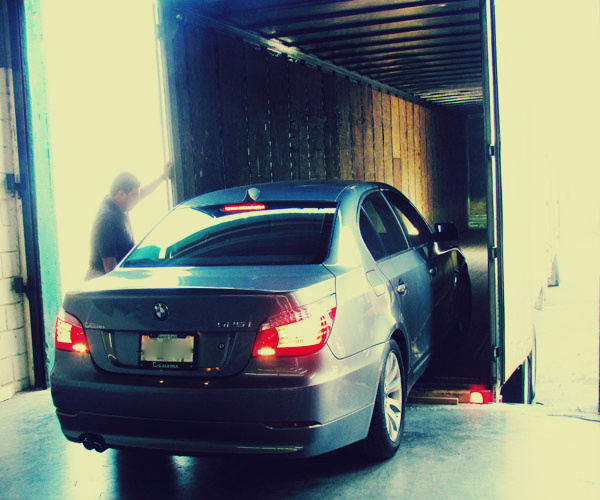 ---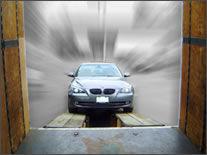 ---
PETS
Copy of importer's passport
Vaccination certificate
Letter of good health of veterinarian no more than one week old
Pets should not arrive on weekends or mexican holidays
" If pet is pedigreed a copy of pedigree is necessary for customs to asses taxes if any. It is recommended that we have all above documents at least 10 days in advance to obtain sanitary import document
For more information about Mexican Regulations visit http://www.aduanas.gob.mx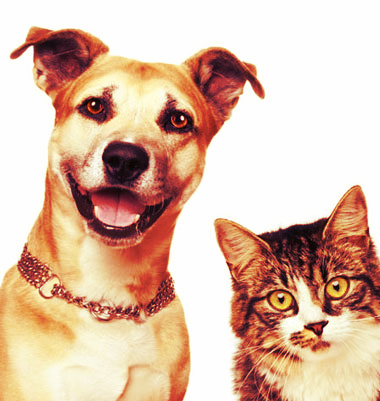 ---